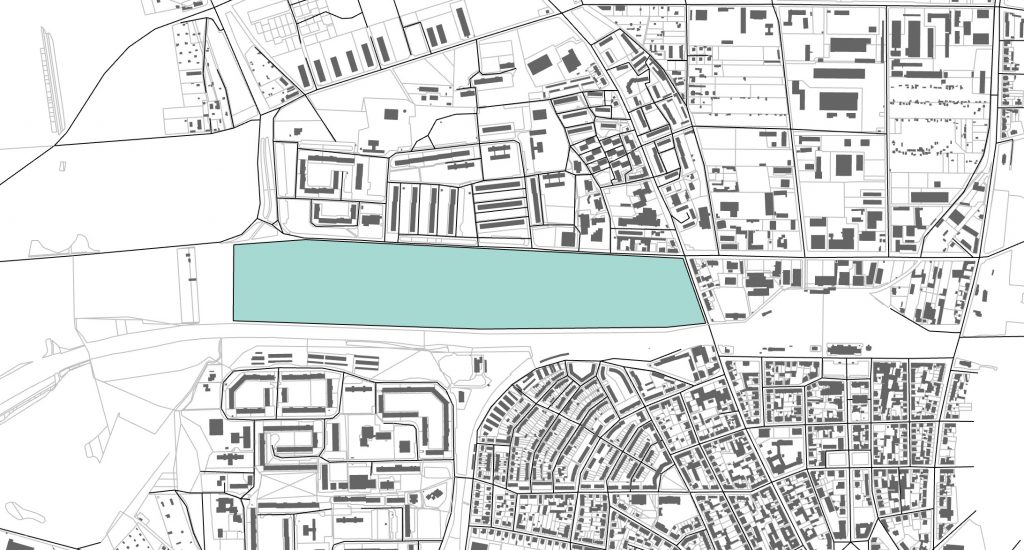 In this fictitious urban planning task, we are creating a new urban quarter for the city of Weimar. This plot is located in the north part of Weimar and lies between the two GDR-housing developments "Weimar West" and "Weimar Nord". The new urban quarter "Northwestweimar" shall become a lively part of Weimar and therefore connect these two nowadays quite separated parts. At the southern border of the new quarter, there is a railway line. This railway line is crossed by one pedestrian bridge. You are allowed to insert one more bridge (also for cars).
Your first task now is to create a parametric model for generating a street network for Northwestweimar. The street network shall not exceed a total length of 4000 m and the street blocks that are created by this street network shall approximately have a size between 5.000 and 25.000 m².
A note: At this stage, we will be only concerned with the street network. Other urban elements (plots and buildings) will follow later. It might seem strange to you, to design a quarter by starting with streets only because surely the other two layers influence the definition of the streets network. But don't worry, in later stages, you will have the chance to adopt the street network to the requirements of the other aspects.
NordWestWeimar Model file is attached as a Rhine v6 files. You can find the site location as highlighted in the image.
Submission Format: Upload three screenshots that show variants of the street network generated with your parametric model (top view) and you Grasshopper – File!
Please use the template attached, to describe your algorithm as well as organize the screenshots of your design.
Attached Files:
NordWestWeimar
SubmissionTemplate_PUDA_FirstLastName
How useful was this lesson? - Click on a star to rate it!
Average rating / 5. Vote count:
It seems that the lesson is still in need of improvement!
Let us improve this lesson!
Thanks for your feedback!